Vermeer
Category - Old Master
Written by Eric J. Iannelli
Editor: Kellie A. Hanna

One might say that Johannes Vermeer's life and work share a similar quality of ambiguity. So little is known about the Flemish painter, even the most thorough biographies are littered with speculation and hypothesis. Likewise, the true meaning or intent of his paintings is trapped in subtleties known only to the artist himself. The chronology of his work is equally vague. Nevertheless, this enigmatic cloak that might have left less talented artists overlooked has not hindered Vermeer from garnering the praise he deserves. The physical and emotional profundity of his paintings has allowed him to endure the passing of time.

Although Johannes, or Jan, Vermeer (b. 1632) was recognized by his Baroque contemporaries as being an artist of great merit, his artistic output and subsequent income were too small to establish an immediate lasting reputation. He died in 1675, impecunious and with approximately 35 or fewer paintings to his name. Forgotten for almost two centuries, he was 're-discovered' in 1866 through an article by critic Thoré Burger. Burger's article incorrectly attributed 66 paintings to Vermeer but succeeded in sparking substantial interest, thus revitalizing the appeal of his work. Since then, Vermeer's status has been elevated to dizzying heights, increasing his popularity among both critics and patrons as well as his influence on modern artists.

Vermeer's childhood experiences undoubtedly affected his choice of career in addition to the subject matter of his paintings. His father, Reynier Jansz Vos, and his mother, Digna Baltens, ran a Delft tavern—first the Flying Fox, later the Mechelen. His father was also a rather shrewd art dealer, a part-time profession Vermeer would follow with some success. This setting possibly nudged a young Vermeer in the direction of art and simultaneously exposed him to the human foibles that he would so intricately depict on canvas, such as The Procuress (1656, Gemäldegalerie, Dresden) and Officer and Laughing Girl (c. 1658, Frick Collection, New York). His other works often develop and probe analogous themes: uncertainty, distress, allegory, and secrecy.

Vermeer began his formal training at the age of 13 or 14 and it is generally assumed that he studied under Dutch Masters Leonaert Bramer or Carel Fabritius, despite the lack of similarity in his early work. A more recent proposal places him with Abraham Bloemaert, whose style is more closely reflected in Vermeer's formative years. Vermeer was elected to the Delft Masters' Guild shortly after he completed his formal training--circa 1653--when he was about twenty years old. Such an early admittance indicates that unanimous confidence existed in his talent. His earlier paintings explored Christianity, Catholicism in particular, possibly to win the hand of Catharina Bowles, whose wealthy mother disapproved of Vermeer's Calvinist background. If Bloemaert was indeed his tutor, he likely introduced Vermeer to Catharina because of a friendship that existed between the two families.

Ties or parallels with his contemporaries are present in much of Vermeer's art. Christ in the House of Mary and Martha (c. 1654-55, National Gallery of Scotland, Edinburgh) and St. Praxedis (1655, Barbara Piasecka Johnson Collection, Princeton, N.J.), to name but two, are variations on paintings by Erasmus Quellinus and Felice Ficherelli, respectively. He also imitated secular motifs, adaptations of fellow artists Jan Steen, Nicolaes Maes and Pieter de Hooch.

Still, Vermeer ought not to be considered an artistic parrot. He was startlingly original in his rendition and design, adding personal touches that distinguish his work from the others'. These changes paradoxically reveal and conceal important aspects of the depictions and would soon be characteristic of Vermeer.

A Girl Asleep (c. 1657, Metropolitan Museum of Art, New York) is a fine example of this trait. Mimicking the scene in Nicolaes Maes' A Sleeping Maid (1655, National Gallery, London), Vermeer frames the figure using common objects and, granting the viewer this vantage, invites 'entrance' and contemplation. The mystery of the painting, like many in Vermeer's repertoire, lies in the action surrounding the scene. Has the girl been drinking or has she merely fallen asleep? Why is there such a disparity between the orderliness of the half-visible rear room and the disarray of the foreground? Why is there a mask in the mirror depicted in the upper right? Clues such as these indicate that Vermeer did not concern himself with a simple vignette. There is a complexity to the story behind the picture as well as the person represented. X-ray examinations show that there was once a man painted in the background as well as a toppled wineglass on the table; why Vermeer removed the two is open to debate.

The same haze of mystery envelops Girl Reading a Letter at an Open Window (c. 1657, Gemäldegalerie, Dresden). Because of the look of displeasure or brooding on her face, it is unclear whether the letter is from her lover or if it bears bad news at all. Spilled fruit on the table is suggestive of Eve's fall, and the dust curtain (which, surprisingly, neither extends below the painting nor casts a shadow) might offer privacy were the viewer not given the omnipresence to peek into this woman's room.

Vermeer, and consequently the viewer, catches the girl pondering, a moment of reflection that is further conveyed through the girl's image in the panes. Another point of interest is that Vermeer had a cache of favoured objects that appear regularly. The window in this painting is also pictured in The Glass of Wine, The Music Lesson, Girl Interrupted at Her Music, and several others. Like the pensive girl in Girl Reading a Letter..., Vermeer would choose to focus on female subjects in later productions. Lighting, too, is a distinguishing mark of his. As he developed his sui generis style, he grew more adept at using light to further capture a mood, whether solemn or gay.

View of Delft (c. 1660-61, The Hague) and The Girl with a Pearl Earring (c. 1665, The Hague) are two of Vermeer's most widely recognized works. Although he significantly changed the layout of the landscape to better suit his four-layered design, scholars believe Vermeer created View of Delft using a camera obscura, resulting in the scattered highlights. Other studies of this composition reveal that he mixed sand with his paint in order to achieve a certain texture and alter the way light acts upon it. The black background of The Girl with a Pearl Earring pushes the subject into three-dimensional realism. Restored in 1994, a stray flake of white paint was removed from the girl's earring, drastically changing the impact of the image. It, too, was also likely produced with the aid of a camera obscura, a possible suggestion of microscope inventor Antoni van Leeuwenhoek, friend of Vermeer and supposed subject of The Astronomer (1668, Louvre) and The Geographer (c. 1668-69, Städelsches, Frankfurt).

Vermeer has had a tumultuous posthumous career. Some works have borne his name but were forged by imitators, most notably Dutch artist Hans van Meegeren (1889-1947). The Nazis, in particular Hermann Goering, attempted to monopolize ownership of Vermeers during the Second World War, though most of their purchases turned out to be fakes.

Most importantly, even recent attempts to categorize Vermeer have listed him as a portraitist or as a painter of domestic interiors. It would be a misconception to limit the scope of his work accordingly, for he was equal parts psychoanalyst and artist. His insight into the human condition rivalled that of the best socio-political thinkers, but it was neither direct nor biting; it was done with the subtlety of shadow, layout or posture, a masterful sense of optics and detail.

Vermeer transformed pain, melancholy, and serenity into things of beauty. Perhaps the most telling episode of his life is of his own creation: The Allegory of Painting (c. 1666-67, Kunsthistories Museum, Vienna), feasibly a self-portrait. Although the Golden Age's annals contain meagre biographical data, Vermeer's pictures truly are worth one thousand words.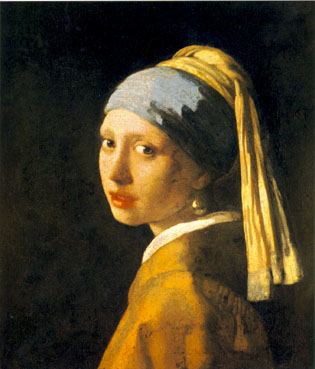 Varmeer, Johannes
The Girl with a Pearl Earring
1665
47x40
The Hague, Mauritshuis
Image obtained from the Vermeer Clickable Map

Sources
Pictures culled from: The Vermeer Clickable Map.

Bibliography: Bailey, Martin. Vermeer. Phaidon Press Ltd., London, 1997.

For more information, please visit the Artchive.
~Related Web sites for this Feature~ ~top~
---