Chuck Close - Artist of Contrast
Category - Contemporary
Written by Calli Soules
Edited by Kellie A. Hanna

For the past three decades, Chuck Close has claimed the human face as his sole terrain. His oversized, closely-cropped images demand attention. Close's current retrospective offers an opportunity to view his evolution and his contrasting approaches to the human face.

Big Self-Portrait, 1967-68, is a bold, in-your-face image painted when Close was an unknown, out to make his mark on the art world. His early, airbrushed black and white images were created on canvases prepared with fifteen coats of sanded gesso, providing the smoothest of surfaces for Close's reproduction of the smallest details, flaws and lines of his subjects' faces. These early works could be brutal in their treatment of the sitters. Unidentified sitters are treated in a cool, unemotional manner contrasting with the intimacy shown in his portraits of friends and family. This is especially true of images of his artist friends, such as Roy Lichtenstein and Robert Rauschenberg, which offer a glimpse of the relationship shared between the artist and his subjects.

In contrast, the Chuck Close of the nineties is an internationally celebrated artist. There is a waiting list for his work despite the fact that each portrait takes up to a year to produce, and commands fees of $400,000. While many artists, once achieving fame, commercialize their work, Close continues to evolve and to create based on his own perception of his art. His current works, such as Self-Portrait, 1997, exhibit a different kind of boldness, less dependent on drama with an increased emphasis on the actual act of painting. The youthful tightness is still evident in the precision of his strokes but there is a new, freedom and a vibrant use of color.

The differences between these two self-portraits illustrates the scope of his development over the past three decades. Close is a contradiction in terms. A self-professed slob, his work is produced with the utmost precision and craftsmanship. In his early self-portraits, he poses with beard stubble, sideburns and unruly hair - the radical, young artist. The painting is a true reflection of his reference photo - technically, no hair is misrepresented. Today's Close is far more conservative in appearance, with closely cropped beard and hair, yet it is in his latest work that he has allowed his love of color and painting to flourish.

By the mid-seventies, Close had embarked on the course towards today's work by creating precisely gridded paintings. The starkness was replaced in some of these new portraits with a diffused quality, reminiscent of the Impressionists. Others appeared to be computer-generated or, at the very least, computer-influenced. In response to that comparison, Close has said, "I absolutely hate technology, and I'm computer illiterate, and I never use any labor-saving devices although I'm not convinced that a computer is a labor-saving device." A statement which underscores the importance of traditional draftsmanship to his vision.

Close's work is contemporary, but not because of its similarities to computer-generated art. It combines his long-standing interest in Abstract Impressionism and a wide range of brilliant colors, with his self-imposed rules for creating portraits. He continues to stretch the boundaries of realism into a fusion of abstract art and realism, creating a style that is "pure Close."

By the mid-eighties, there was less emphasis on the photorealism. Compare the close-ups of the two self-portraits. The 1967 piece is a faithful reproduction of the subject, frozen in time. It is a documentary, unemotional and cool. Flawless brush strokes and attention to the smallest detail of the sitter's face, combined with massive scale, are hallmarks of this period. In contrast, each of the thousands of squares that make up his current portraits are small Op Art paintings. Viewed individually, each grid teems with playful shapes - lozenges, loops, swirls, Xs, and circles - executed in intensified color. Close's palette has always included high-key colors but now he uses color boldly, creating greater contrasts between the light and dark hues. His playful grids converge, when viewed from a distance, to create a powerful portrait, with an image as elusive as his earlier work.

It's Close's individuality that has ensured his place in art history. In the 1960s when minimalism and conceptualism were the rage, Close never shifted from his vision of creating photorealistic portraits. Over the years he has experimented - fracturing his images with cubism, using his fingerprints to paint, creating collages and prints. The consistent photographic restrictions used to compose his reference Polaroids result in a shallow depth field, blurring certain features and exaggerating others - all of which he faithfully reproduces. His models are posed in everyday clothes ensuring that there is no distraction from the focal point of the painting - the human face. Considering the price his work now demands, Close has never sold out, remaining true to his inner vision. The only commission he has ever accepted was his 1996 portrait of Clinton.

His tenacity was formulated at an early age. I suspect that his vocabulary excludes negative words, such as "can't" As a non-athletic child he used his art to attract friends and to survive his father's death, and his mother's, grandmother's and his own illnesses. He was dyslexic but attended both the University of Washington and Yale. While most of his peers are in semi-retirement, Close continues to produce his portraits at an remarkable rate. All the more astonishing because, in 1988 at the supposed height of his career, Chuck Close suffered a crippling aneurysm in his spinal column. The resulting paralysis has confined his body, but not his creativity, to a motorized wheelchair for the past decade.

Close demonstrated that he would paint again by producing his still-massive images at a passionate pace and taking his work to the next level. According to Roger Angell, writing in The New Yorker, "a ravaged artist has become, in a miracle, one of the great colorists and brush wielders of his time." The current Close retrospective was organized by Robert Storr, Curator, Department of Painting and Sculpture, The Museum of Modern Art. It includes 80 paintings, drawings, prints and photographs from all phases of the artist's career. The retrospective runs through May 26 in New York City before traveling to: Museum of Contemporary Art, Chicago. June 20 to September 13, 1998; Hirshhorn Museum and Sculpture Garden, Washington. DC, October 15, 1998 to January 10, 1999 and the Seattle Art Museum, February to May 1999.

This retrospective shows an impressive body of work, but never underestimate Close. I, for one, am convinced that the best is yet to come.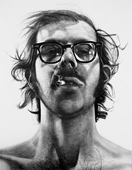 Big Self-Portrait, 1967-68.
Acrylic on canvas. 107 1/2 x 83 1/2" (273 x 212 cm).
Walker Art Center, Minneapolis.
Art Center Acquisition Fund, 1969.

Sources:
Museum of Modern Art
newyork.sidewalk.com (review)
www.washington.edu/alumni/columns/june97/close1.html
www.pacewildenstein.com/close/recent1.html
www.wwnorton.com.thames/509253.html
~Related Web sites for this Feature~ ~top~
---